Suspension Parts


MSC Moto has been involed with manufacturing specialised suspension components for many race teams, individual racing projects and other private non commercial applications for around 10 years. We have not offered these products and services as a main stream line to our customers because of time restaints on our equipment and man power to get the work done.
New for 2017 MSC Moto will be pushing forward with many of our great innovations and bring them to the public so you to can now have the products that were previously unabtainable!
In the last 12 months we have invested heavily in our workshop and machine shop with high end CNC lathes and associated equipment allowing us to make our range of suspension parts in a competitive way so our loyal customers can purchase and fit them without the one off prototype prices.
Take a moment to how we can make your bike a safer and more fun bike to live with.
ADJUSTABLE PRELOAD FORK CAPS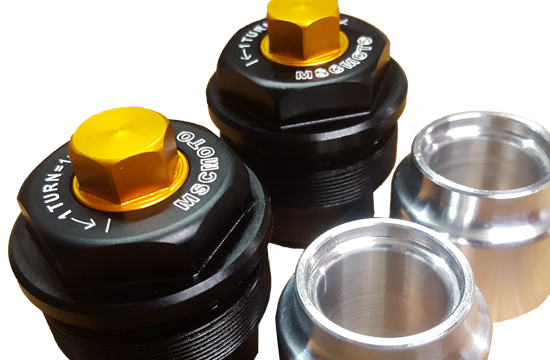 Our exciting new range of adjustable fork caps for bikes which lack any useful adjustemnts is the perfect way for you to get the front forks on your bike working even better. Adjusting the preload is a great way to help set the sag and ride height on the forks when you have loaded up with extra luggage and fuel or you are just having a bit more fun than usual and want to firm up the front end to prevent the bike diving as much.
100% made in Australia and available for:
Coming soon for BMW F800GS, Kawasaki Ninja 300 and Honda CB500F + many more fitments asap.
SPRING COVERSION KITS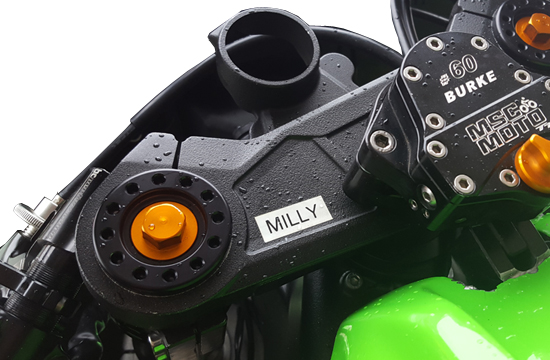 Have you ever tried to change a fork spring on a standard fork at the racetrack or while the forks are still in the bike?...... Yeah it's not real fun!!
Well now with MSC Moto spring conversion kits you can change your fork springs in your sports bike with ease without spending 2k on a european fork cartrige kit. All to often we heard racers, track day riders and suspension tuners alike complaining about making a spring change when the bike has OEM forks so we came up with a usefull and cost effective solution!
Available for Kawasaki ZX10R 2016 - 2017 and Suzuki GSXR1000RR 2017 - fits all Showa BFF forks.
Coming soon for Yamaha R6, Yamaha R1, BMW S1000RR.
PLEASE CALL: +02 43741655 during business hours to order or make enquiries.