Axis Steering Damper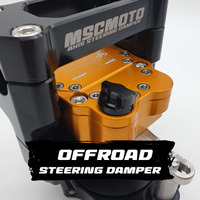 ENDURO, TRAIL and MOTORCROSS motorcycles.
If your looking for the best solution to a nervous front end or an extra set of hands to help out with the bits that jump out on the track you don't see then the MSC AXIS Steering Damper is your answer.
The AXIS steering damper is the latest in steering damper technology with its small compact design featuring 20 clicks of adjustment and Active Return to Centre (RTC) as well as all the standard MSC MOTO quality features like hardened steel long lasting linkages and anodized billet construction.
Like all our steering dampers we CNC machine every part here in Australia at the MSC factory and hand assemble each damper to make sure you are only getting the best possible parts for your bike. Each damper is checked by an experienced fitter before it leaves the assembly line and made ready to ship for years of untroubled use.
AXIS dampers are fully serviceable by any mechanic and full instructions and service kits are available from us here at MSC MOTO.
See the features for a full run down on why you can't go past the MSC AXIS steering damper to help control your ride!
FEATURES EXPLAINED
Fully adjustable with 20 linier clicks that are easy to access on the fly. The dial is shaped so you can use with gloves and also adjust when using the MSC bar pad. Adjustments range from almost no damping to very firm at full adjustment. Turn dial clockwise (+) for harder setting and anti clockwise (-) for less damping.

NEW for the AXIS is our ACTIVE RTC. This is unique to MSC Moto and can't be found on any other damper available. The system is a fully dynamic internal adjuster which controls the return to center circuit by actively reducing the damping as much as a rider needs to get back to center at the speed they turn the handlebars. This means the faster the rider tries to get the bike back to a straight line the more the RTC will be released. Having this system means that when the rider wants to keep a straight line at high speed they get the benefit of a damper that has full damping on RTC and then in tight tree's its like having a fully controlled zero RTC system. It's like a damper with a brain!

Our hardened steel linkages are the strongest in the business and will last for a very long time. Not only are our linkages steel but the billet steel internal vane is made from super strong steel and precision ground to exacting tolerances for perfect pressures and reduced wear.

All MSC MOTO steering dampers are supplied with stainless steel fasteners as they are strong look great and won't corrode in the harsh conditions dirtbikes find!

It may seem simple but we like to machine our logo on to the damper as it lasts forever and will never fade. It also gives it that factory look too!

MSC MOTO steering dampers are all 100% cnc machined from the highest quality billet aluminum in house here at MSC by our very skilled machinists and then anodized for extra hard wearing and great finished looks.
The AXIS is available for DownUnder mounts which raise the handlebar height approx 25mm and then also TopMount kits which maintain the standard bar position. MSC AXIS is supplied with its very own specially designed injection moulded bar pad free of charge!!
If you have any further questions contacts via e-mail or call us on +61 2 43741655
If you would like to see our product range click here or a quick glance at our fitment list.