TT3 Steering Damper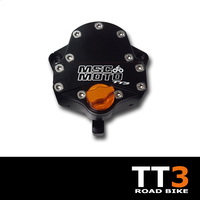 SPORTS BIKE ROAD Motorcycles
This is no motorcross damper that has been adapted to fit a road bike. The TT3 is a damper that is unique and developed specifically for road bikes and road riding conditions.
The body is designed with a wider distance between the mounting bolts to fit over the larger steering head nuts commonly found on road bike.
When mounted to the bike, the damper is located in a protected and safe position, that is still easy for the rider to adjust on the fly even with heavy gloves. The knob has 20 clicks so that the rider can feel when he makes an adjustment. This allows the rider to know when they make an adjustment and rule out accidental changes to dampening. The mounting position on the bike means that should the worst happen and the rider crashes, the damper is out of harms way. This means that the damper is highly unlikely to be damaged or cause damage to the bike or rider.
Inside the TT3 is the same billet steel vane and minimal friction shaft seal that is currently out lasting other steering dampers around the world in real life Adventure, off road and road racing/riding situations. We currently have many customers on around the world trip relying on our steering dampers to keep them in control and trouble free in countries where no mechanical support is available.
The damper works with full dampening on deflection and return. That means that in the event of a sideways collision to your front wheel, the deflection will attempt to turn the handle bars in a sudden and potentially dangerous direction. The TT3 damper will cushion your bike from this deflection and maintain your intended direction. This will help in a range of situations. For the average road commuter it will help you manage pot holes, uneven road surfaces, and having the confidence to overcome wind buffeting that can happen when over taking large vehicles like trucks and cars. For the weekend road warriors, it will help you control sharp accelerations. While those small power wheelies can be exhilarating, when the tyre reconnects with the road, it can lead to potentially dangerous head shake that the TT3 damper can remove. For owners of super powerful, yet twitchy, sharp handling sports and naked bikes, a damper can turn your wild stallion into a responsive and controlled race horse.
MSC Moto TT3 steering dampers are so reliable we back it up with a full 12 months warranty against leaks and crash damage. Yes that's correct we will rebuild your damper if there is an issue in the first year you have it installed on the bike. ** (Conditions apply) **
TT3 Features;
100% AUSTRALIAN MADE BY MSC MOTO
ACTIVE RTC
20 POSITION MAIN ADJUSTMENT
EASY TO INSTALL FOR MOST KITS
EASY TO ADJUST WITH RACING GLOVES
FULL BOLT ON MOUNTS - NO WELDING
STEERING NUT INCLUDED WITH MOST MODELS
CNC MACHINED FROM THE HIGHEST QUALITY MATERIALS
LOW FRICTION MAIN SHAFT SEAL = LESS WEAR NO LEAKS
1 YEAR WARRANTY**
GUARANTEED IMPROVEMENT TO YOUR RIDING
To see our range of bikes click here.