RM3 Steering Damper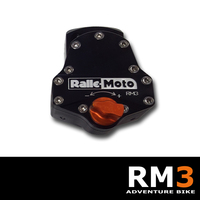 Designed and implemented since 2016 - the Ralle Moto RM3 steering damper is the perfect solution for Adventure and Dualsport motorcycles.
The RM3 is a blend of our 2 most successful steering damper models to date. Using the body design features from the ever popular RM2 Steering Damper unit and merging that with the class leading adjuster system of the MSC Moto AXIS steering damper.
Best parts of the RM2
When designing a steering damper for most adventure bikes, the instrument panel, top triple clamp and handle bar set up is similar to a road bike in that there is a lot of parts in the a relative small space. When designing a steering damper unit, we understood that its physical dimensions were important, so that owners didn't have to make heavy adjustments like welding or cutting the frame to attach the damper. All RM3 steering damper kits are bolt on and do not require you to make permanent changes to your standard bike. To allow for this the RM3 offers you a unit that's physical dimensions, its height, width and depth, are slimline enough that it fits under most handle bars with the bars raised a nominal amount.
Best parts of the AXIS
What you get now inside the unit is a 20 position main adjuster and the intelligent ACTIVE RETURN TO CENTER operating system that was developed with the Australian Factory KTM Desert Team and other major offroad teams here in Australia.
With the simple to use adjuster system you now only need to set how firm or soft you want your handlebars to turn. The Active RTC will work out from the feedback the rider gives the bike if you require the damper to have Full damping on return to center for high speed situations or if you require Zero damping on return to center for terrain that demands the rider to counter steering in a hurry. The is achieved using a clever bleed off valve in the return to center circuit that maintains the optimum amount of pressure in the RTC circuit until it is forced open with added pressure to the steering axis.
For more information about how the ACTIVE RTC works see our Steering Damper info page.
Inside the RM3 is the same billet steel vane and minimal friction shaft seal that is currently out lasting other steering dampers around the world in real life Adventure situations. We currently have many customers on around the world trip relying on Ralle Moto steering dampers to keep them in control and trouble free in countries where no mechanical support is available.
To best RM3 Features;
· 100% AUSTRALIAN MADE BY MSC MOTO
· ACTIVE RTC
· 20 POSITION MAIN ADJUSTMENT
· EASY TO INSTALL FOR MOST KITS
· EASY TO ADJUST WITH ADVENTURE GLOVES
· FULL BOLT ON MOUNTS - NO WELDING
· BAR RISER INCLUDED WITH MOST MODELS
· CNC MACHINED FROM THE HIGHEST QUALITY MATERIALS
· LOW FRICTION MAIN SHAFT SEAL = LESS WEAR NO LEAKS
· 1 YEAR WARRANTY*
· GUARANTEED IMPROVEMENT TO YOUR RIDING