LC8 Steering Damper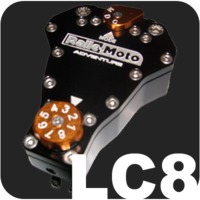 THIS STEERING DAMPER HAS NOW BEEN REPLACED BY OUR ALL NEW RM3 STEERING DAMPER
There's one main issue when fitting a damper to the big KTM twins, you need to replace the top triple clamp.... Well not NOW! With our fully adjustable LC8 SD that fits right on to your standard top clamp (or yoke depending where your from!) with out the need to replace not only your standard clamp but also your expensive bar risers.
Now some would ask whats the problem with replacing the top clamp? Well here's a few facts for you to see why it can be for people "biting off more than you chew"
The LC8 and most KTM's have a different design steering stem setup that will usually catch the home handyman out and drop your whole front end straight on to the concrete floor not only causing damage to the bike as it pulls through but also the bits that hit the ground, not to mention when the bearing falls apart leaving you to try put it back together if your lucky! THIS IS TRUE WE HEAR IT MORE THAN YOU CAN IMAGINE!

If you dont do it yourself you will be looking for a workshop?? Well try this on for size; A normal workshop in Australia will charge around $90+ per hour right? Well removing and refitting the top clamp most shops we speak with charge 1.5 to 2 hours to fit a top clamp and damper, approx $135.00..... So look at it this way by the time you put the damper on your next bike and get charged to put your old bike back to standard another 135 odd bucks then that again to refit it to your new bike...... Yeah its allot to process but it's even more to pay!

Have you already bought a nice new set of bar risers? answer yep? Well say by by to them with an aftermarket top clamp!
All that may still be no problem for a mechanic, but lets face it....... Fitting a RALLE-MOTO LC8 kit will take you 20mins in your garage at home. Enough said!
Setting the LC8 is very simple and easy to do on the fly via it's 8 position clearly marked dial, the range of dampening covers all types of riding and terrains from tight forest roads to big desert crossings. The LC8 is also 3 way adjustable on the "Return to Centre" motion, this helps you decide the best setup when entering different terrain.
The LC8 Steering Damper is a great addition for any LC8 owner looking to get the best out their big powerful KTM, it will keep you straight, tidy and not so tired at the end of the day by eleminating headshake, wheel deflection and weaving due to a heavy load over the back wheel.
How the RM1 MDC return to center adjuster works.
This 3-way mode switch controls a separate return to centre porting system. The Ralle-Moto system is unique in that it enables the rider to select 3 completely different dampening profiles at the flick of a switch.

"M" position = Zero return to center dampening
This setting is best used in tight technical riding where very quick counter steering and change of direction is important.
"D" position = Low return to center dampening
This setting is best used for sand and loose terrain where you still want some dampening on return to center but still need to be able to counter steer or change direction quickly.
"C" position = Full return to center dampening
This setting is suited for high speed riding on open tracks or in rocky ground where you want the bike to have maximum stability at all times.
The main adjuster controls the level of damping force at the handlebars.
#1 is lightest amount of damping (turned off)
#8 is hardest amount of damping (very hard)