How our Anti-vibration Bar Mounts can improve your riding!
Author: MSC Moto Date Posted:8 June 2023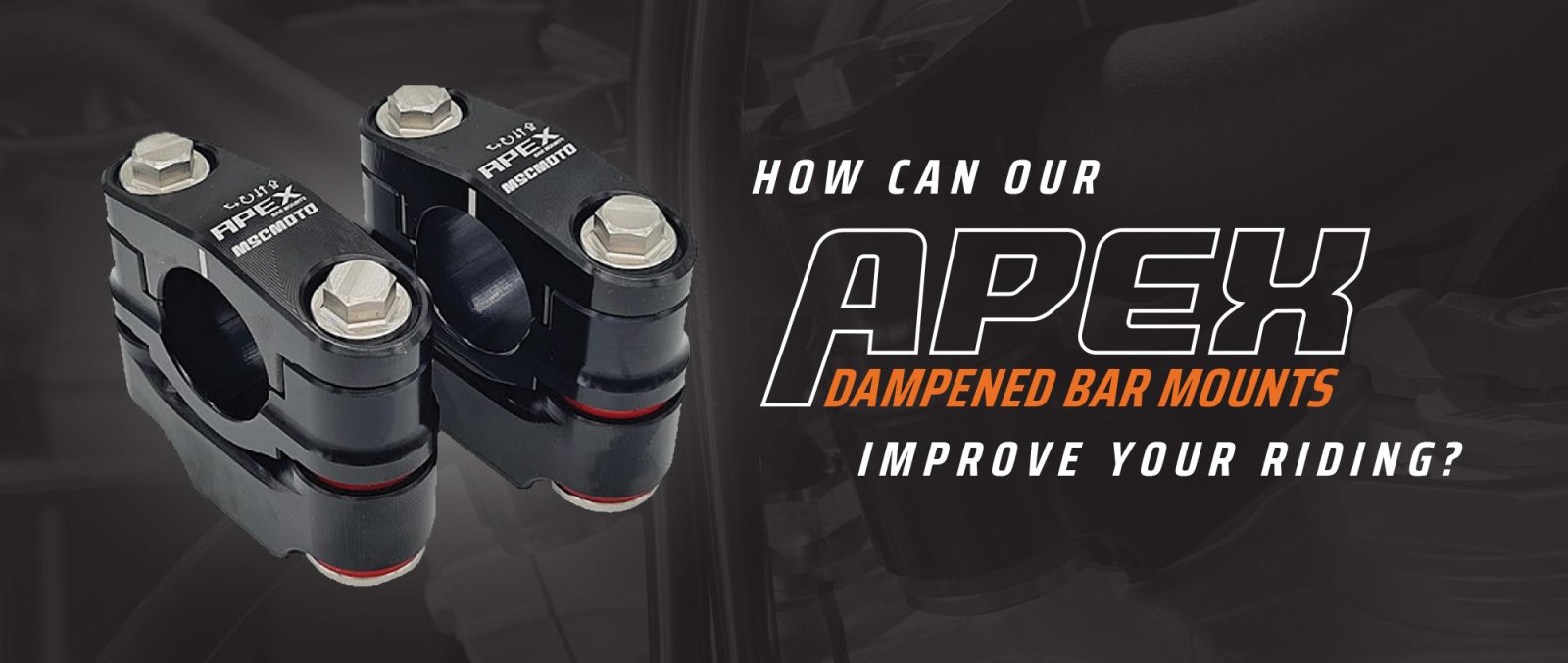 HOW CAN MSC'S APEX ANTI-VIBRATION BAR MOUNTS IMPROVE YOUR RIDING?
Are you struggling with arm-pump, grip strength, or just looking for a little added comfort on the bike? You're going to want to read on!

At MSC we have a saying as old as our company, "Making great bikes greater".

What exactly does that mean? Well, out of the box all bikes are great, there's no doubting that. However, MSC was founded out of a mission to take rider safety, comfort and control to another level. Every single one of our products is crafted with the goal to improve rider and motorycle performance, and our new Apex anti-vibration Handlebar Mounts are no execption!

Thanks to years of rigorous testing and development in the harsh conditions that come with off-road riding and racing, our all-new Apex Dampened Handlebar Mount not only reduce vibration and aid in eliminating arm pump, but also eliminate twisting in the event of an accident.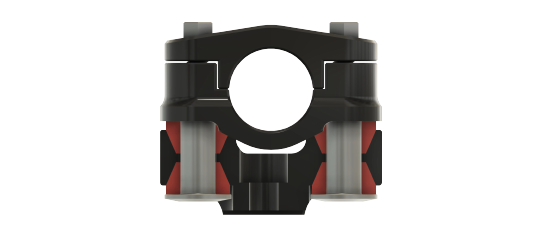 HOW DO THEY WORK?
Featuring the use of eight vacuum cast polyurethane resign dampers positioned concentrically with the four handlebar clamp bolts, the APEX Bar Mounts vastly reduce the amount of vibration received through the engine and chassis while also eliminating twisting in the event of an accident, in addition, they also feature an incredibly compact design, meaning they barley lift your bar height.
The hero of these mounts are the red dampers pictured above, these polyurethane resign dampers are poured in house and quailty checked by our team of engineers prior to installing. As seen in the cutaway, the clamping point sits above the dampers, meaning jarring and vibration through your handlebars is subtly, yet VERY effectivley absorbed by the dampers.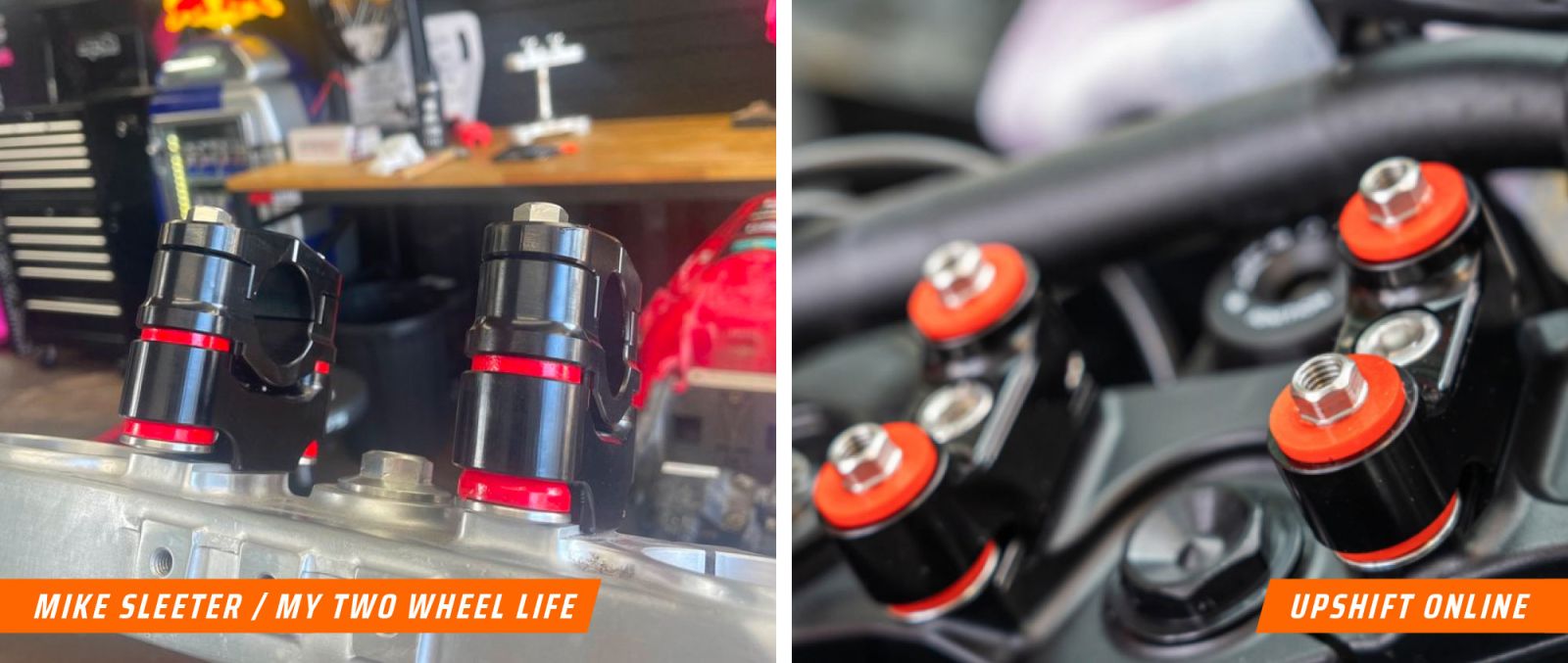 TRIED, TESTED, PROVEN.
Since we've developed the Apex Bar Mounts, a variety of riders have put them through their paces across a wide range of different disciplines and skill levels including; ex-professional SX/MX riders, adventure riders, media, and weekend punters. Although all these riders experience totally different conditions and styles within their discipline, they all found the Apex Bar Mounts vastly improved their comfort on the bike! It's tough to pin-point exactly where the Apex bar mounts can improve your riding as every individual is unique in their style, some of our riders experienced a reduction in arm-pump, others noticed their hands were less sore etc. However, the general consensus throughout our testing has proven that our Apex Bar Mounts improve comfort for riders across a wide range of skill levels. This enables you can ride safer, longer and get the max enjoyment out of your rides.
__________________________________________________________________________________________
Upshift online even went as far as tracking the vibrations with a data loggin app to truely test the mounts.
"I rigidly mounted a smartphone to the handlebars and used a data logging app to record raw accelerometer data of the bike idling with stock bar mounts, and again with the Apex Handlebar Mounts. Raw data doesn't lie, and the Apex mounts proved that they did in fact reduce vibrations measued at the handlebars."
Check out the full review from Upshift Online here.
Mike Sleeter was another rider to put the mounts to the test and find a big benefit in a hort amount of time.
"After a full day of racing with the Apex bar mounts, I can say that I will be leaving the bar mounts on my GasGas 125. The added comfort and riding experience was a big gain especially on the 125 that has some vibration though your hands in stock form."
Click here to read Mikes full review of the mounts on My Two Wheel Life.
__________________________________________________________________________________________
STILL NEED CONVINCING?
To sum it up, there is irrefutable proof that the Apex Bar Mounts can improve your comfort and overall performance on the bike. We don't just make products for the sake of it, our goal is to improve rider performance, safety and comfort, and our Apex Bar Mounts are no exception. Make great bikes greater, right?

Get yours online here. Or visit our MSC stockist page here to get them from your local store.
---
Leave a comment