Shocks



AUSTRALIAN MADE SHOCKS BUILT FOR AUSTRALIAN ROADS
The new MSCMOTO CORE38 2A shocks are built to last and handle the harshest roads no matter how hard you ride. Developed over 2 years of rigous testing and plenty of miles covered, we can now give you the riding experience you have always dreamed of from your harley or twin shock cruiser motorcycle.
Harley Davidson Dynas are the Harley you have when you want that extra bit of performance out of your cruiser motorcycle. The only problem is the suspension can be a bit of a let down if you are looking to ride hard, take a pillion or simply dont like the feeling of harsh bumps smashing your tailbone!
With the CORE 38 2a shocks offer you two adjustments to customise your ride. You can adjust the preload to help set the ride height and sag measurements according to the load. To further fine tune the handling, the hydraulic rebound adjustment has a 20 position easy to use dial with positive clicks to help speed up or slow down the movement of the shocks.
These shock are Australian made right here in NSW by MSCMOTO in our own CNC machining facility. You can always rest assured that you will be speaking with the guys who actually make the shock. We can advise you on everything from making the correct choice at time of purchase, setting changes or maintenence and warranty.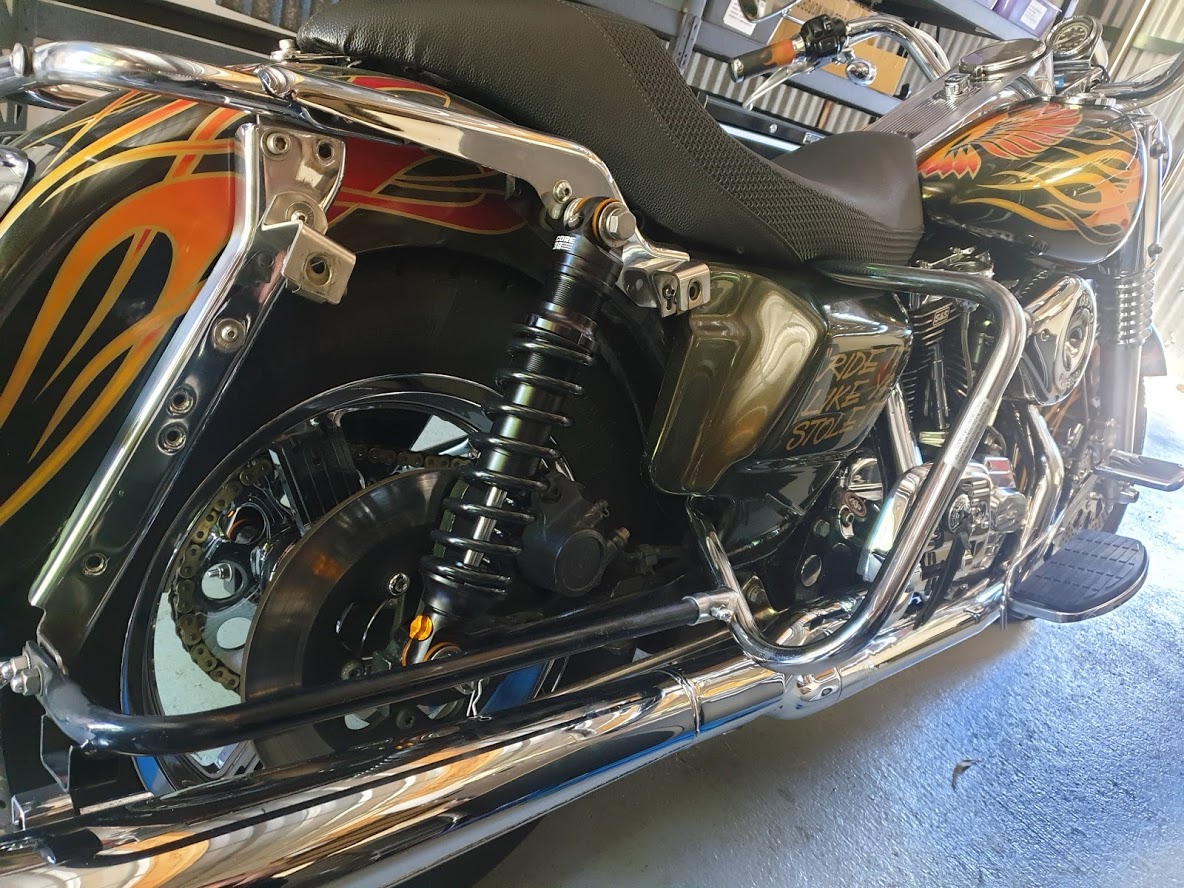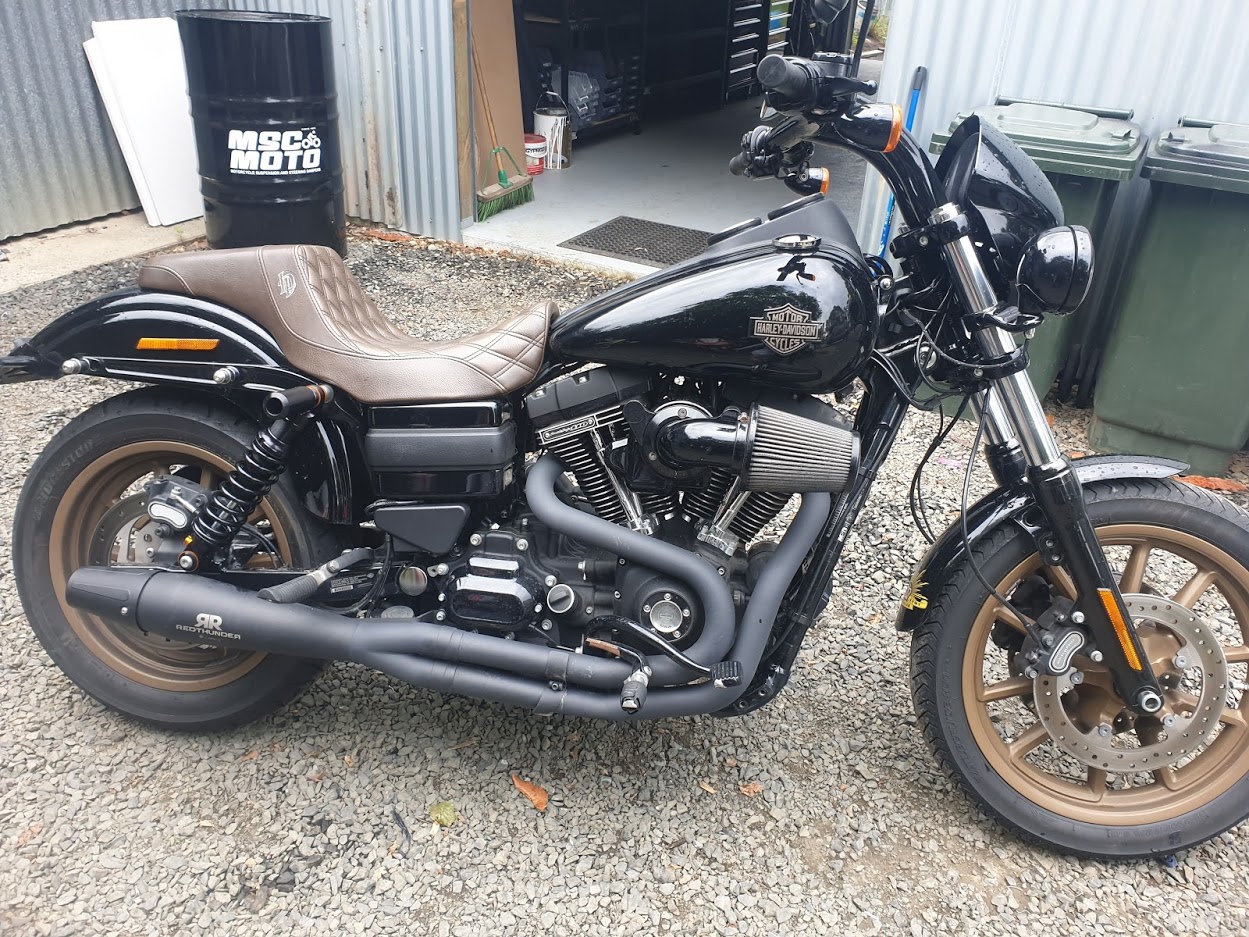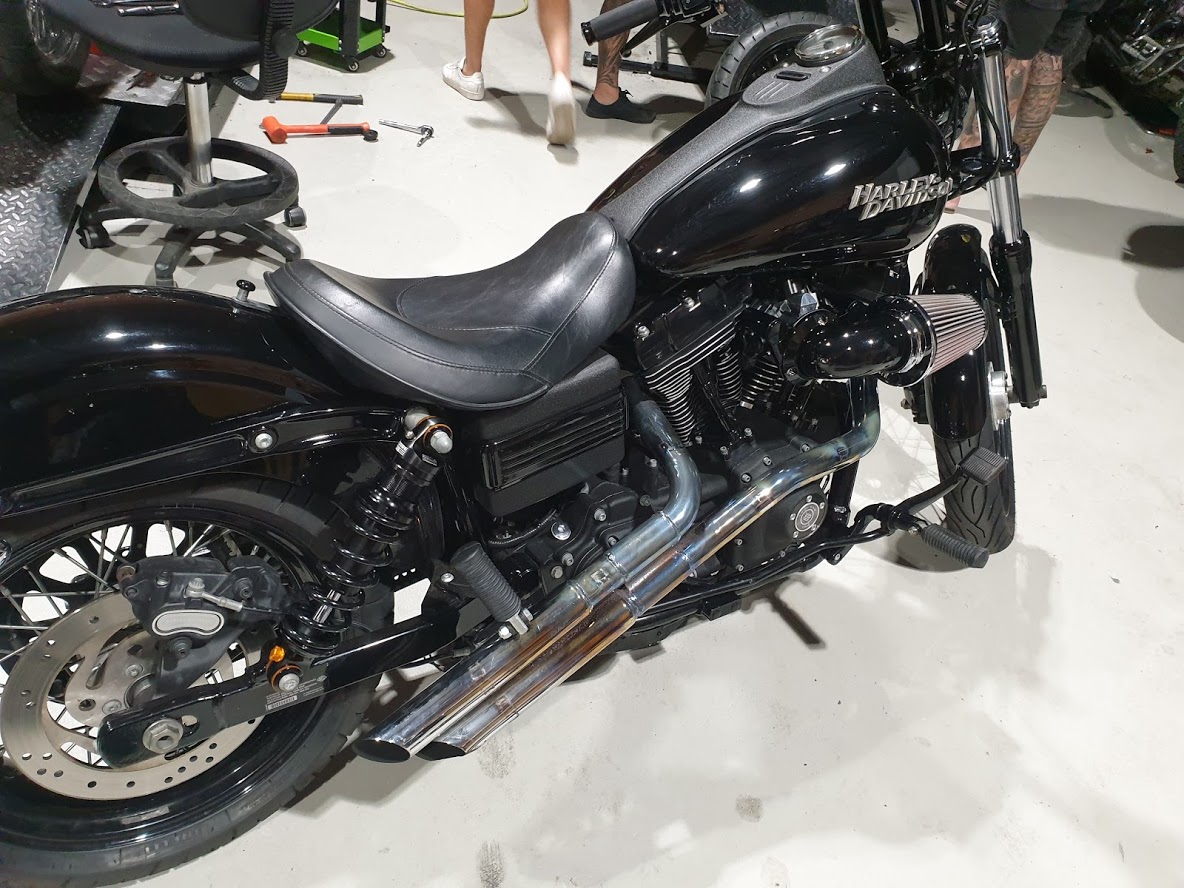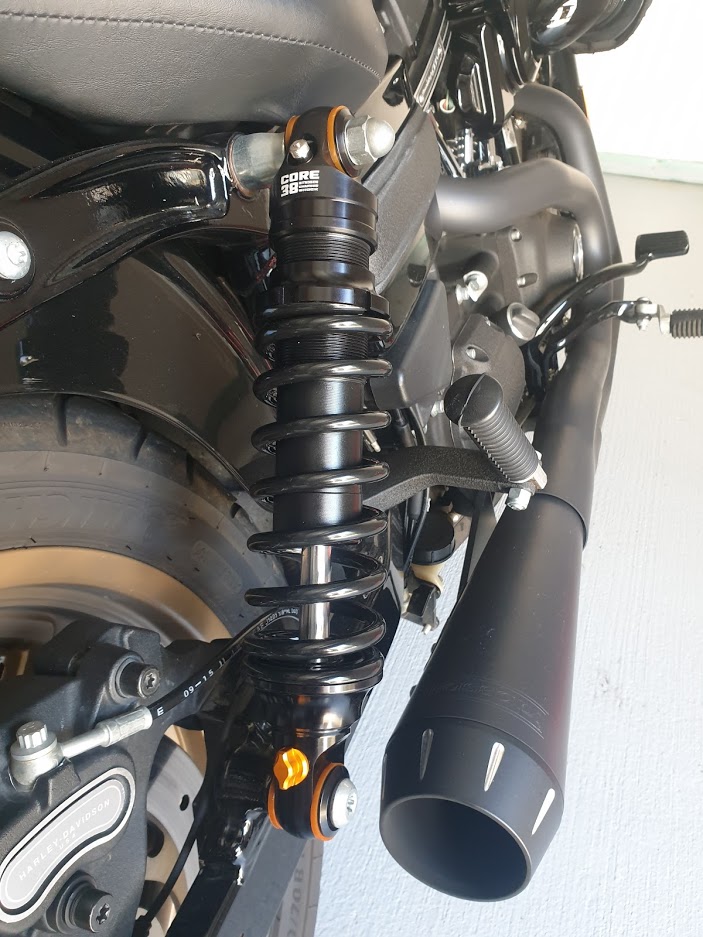 WHY MSCMOTO?

AUSTRALIAN MADE
CNC MACHINED BILLET COMPONENTS
FULLY REBUILDABLE
MASSIVE INCREASE ON SHOCK SHAFT TRAVEL OVER STOCK
PRELOAD ADJUSTMENT
REBOUND ADJUSTMENT
CUSTOM SPRING RATES
OVERSIZE 15MM SHOCK SHAFT
38MM SHOCK PISTON
COMPRESSION AND REBOUND SHIM STACK VALVING
SPHERICLE BEARING OR SILENT URETHANE BUSHING OPTIONS
LIFETIME WARRANTY**
GUARANTEED IMPROVEMENTS
WHAT IS THE DIFFERENCE BETWEEN YOUR DIFFERENT SHOCKS?
LENGTH OF THE SHOCK
12" is the OEM (Original Equipment from the Manufacturer) length of most Dyna motorcycles such as Fatbob, Steetbob, Lowrider, Switch back, wideglide and superglide.
We recommend the 12.5" shock length for riders wanting to improve the overall shock absorber performance and function to give you an exceptional riding experience while maintaining the original look and stance of the bike. These shocks can be set to sit exactly the same height as the standard bike by running little extra sag. With the correct sag settings the bike will sit 10 to 15mm higher than standard offering better ground clearance and cornering performance.
We recommend the 13.5" shock length for riders wanting to again improve the overall shock absorber performance and function allowing you to ride twisty roads without scraping or digging in due to increased ground clearence and lean angle. With a longer shock the big benefit we found with testing on twisty bumpy roads is if you happen to hit a large unexpected bump or have the corner tighten up on you more than expected, you will be less likely to end up on the wrong side of the road looking at oncoming traffic.
Overall our staff and testing crew all preferred the 13.5" shock for riding and comfort. The gap between the wheel and rear fender is much larger and may not be the stance some people are looking for from their Harley.
Longer shocks have the added benefit for a pillion rider, as the rear of the bike is more flat and less sloping towards the ground behind the bike. This gives the pillion a more secure feel and increase in leg room.
Please note: 13.5" shocks can interfer with some exhaust systems that protrude longer than the lower shock mount. Modifications may be required to suit your exhaust.

SPRING RATES
SOFT - Similar to the OEM spring rate better suited for riders under 80kg (If you carry a pillion often go to medium)
MEDIUM - Firm but not harsh, riders over 90kg and riding hard and 1 up (If you carry a pillion often go to hard)
HARD - Firm race like feel for 1 up riding hard and agressive, stunt riding or larger riders over 110kg. Great for heavy touring models and pillion riding.
BELOW IS SOME POSITIVE FEEDBACK FROM OUR CUSTOMERS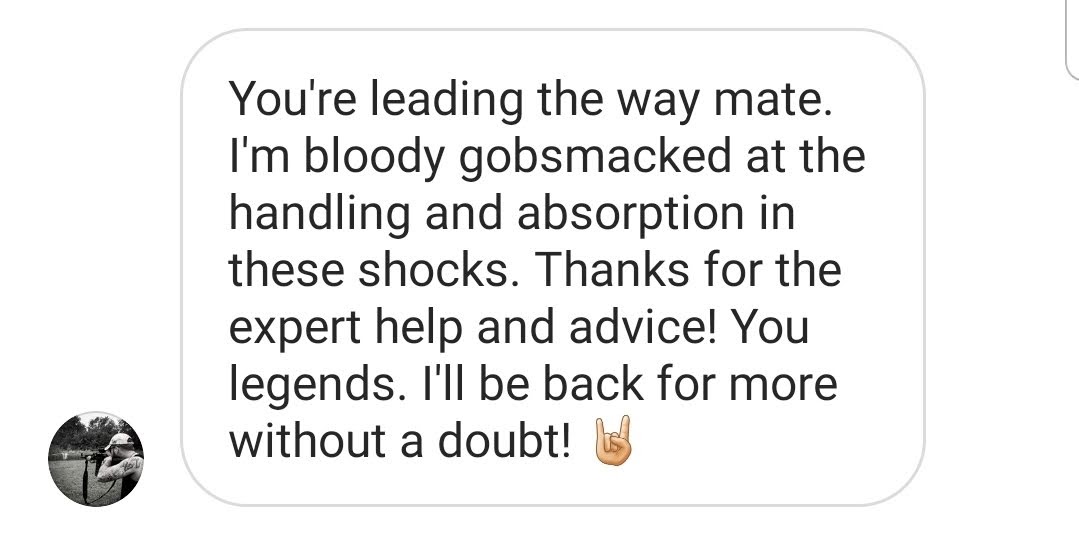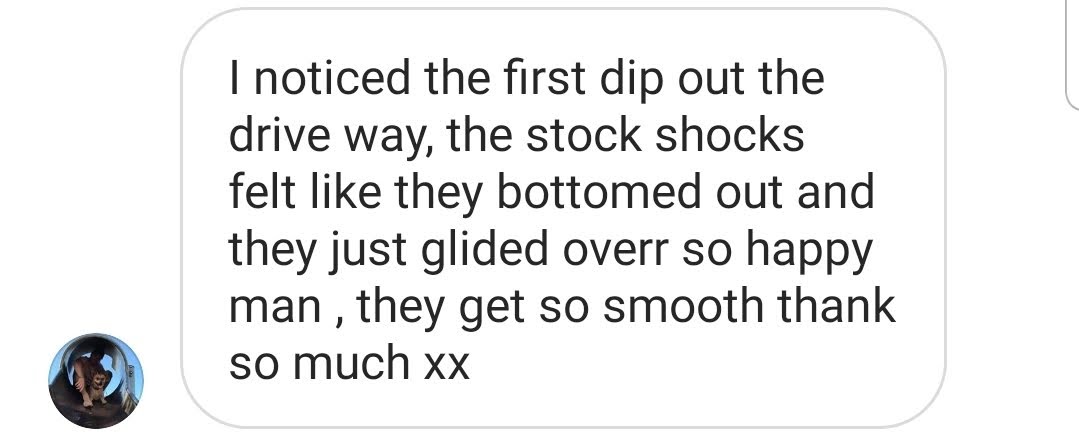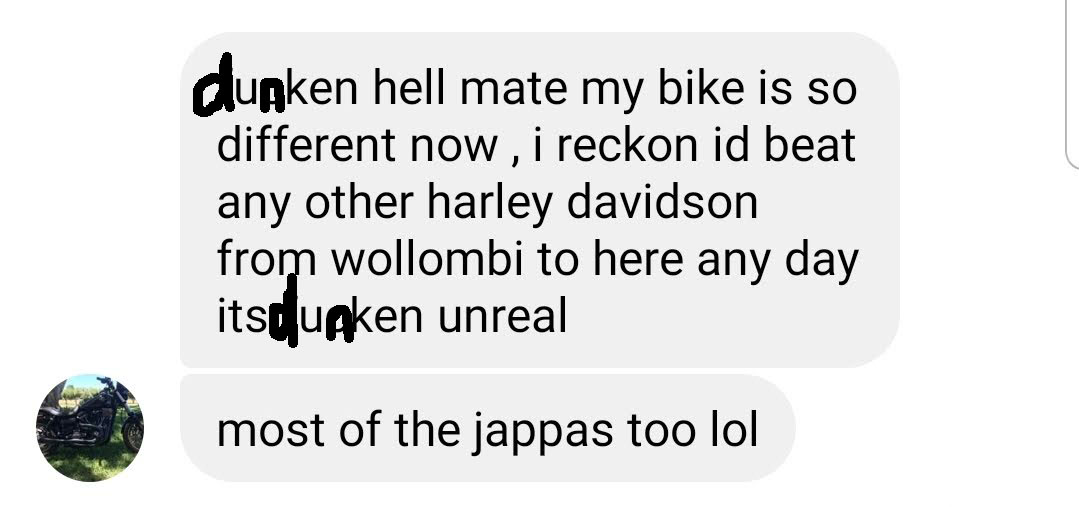 FOR MORE DETAILED QUESTIONS PLEASE FEEL FREE TO SEND US AN EMAIL OR CALL US ON (+61) 2 43741655