Fork Brace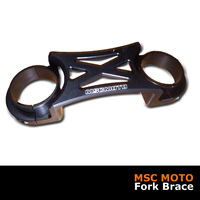 MSC Products have listened to their customers who were looking for a product to stablise their front fork flex, making the steering feel more precise and less vague. The MSC fork brace is made from one piece of billet aluminium to provide strength and structural stability.
People may ask why they need a fork brace, and the best answer we can give is that a fork brace provides a huge improvement controlling the steering in all conditions because both fork legs are working together to provide the exact movement you are making. The front suspension will also "work" as it is designed with less fatigue as there is reduced flex.
Like all MSC products, the fork brace is 100% Australian made from aerospace grade aluminum, making it light weight but strong. It is anodised black for extra durability and the fork gator locator sleeves are machines into the brace. The fork brace is easy to install with no need to remove the forks or the front wheel.
Currently we are making fork braces for:
If you are interested in buying a fork brace for any other models, please
contact us
.